Transfer Information Sessions
---
Transfer Information Session and Tour provides transfer students all the details they need to apply - quickly and easily! During this in-person event, we'll review the Kean application process and steps to enrollment, including credit evaluation and academic advising. A optional campus tour will follow the information session. 

Virtual Transfer Q&A is a casual meetup with a Transfer Admissions Counselor, who can answer your questions about Kean's program options, scholarships, financial aid, and what to expect during the enrollment process.

At Kean, we believe in a smarter approach to education that pairs world-class instruction with real-world professional experience that leads to career success. As one of the most diverse institutions in the nation, Kean offers a place for everyone. If you have any questions or need to reschedule your visit, please email campusvisits@kean.edu.

In-Person Transfer Info Session 

Virtual Transfer Q&A Session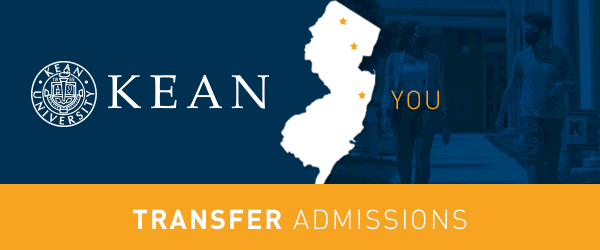 Follow us on Instagram @go2kean and
share your experience using #go2kean
3 day forecast for Union, NJ (07083)
Rain
Rain and patchy fog. Cloudy, with a high near 52. East wind 7 to 10 mph. Chance of precipitation is 90%. New rainfall amounts between three quarters and one inch possible.
Mostly Sunny
Mostly sunny. High near 51, with temperatures falling to around 48 in the afternoon. West wind 9 to 13 mph.
Partly Sunny
Partly sunny. High near 46, with temperatures falling to around 43 in the afternoon.

How can we help?
If you would like to request a Spanish-speaking tour guide or have any other special needs for your visit, please email campusvisits@kean.edu in advance to see if arrangements can be made.

Si quiere pedir un guía que hable español, o si usted tiene cualquier otra necesidad especial para su visita, por favor envíe un correo electrónico campusvisits@kean.edu para ver si se pueden hacer los arreglos necesarios.